So let's get to today's video. In today's video, we're going to be looking into Forex traders, David and Goliath.. and of course, someone will ask me, what do you mean?. You know, something happen last week and a very good friend, I'd also, his student, you know, approached me that OK, Emmanuel, you show all these, all these results. You know, we also want to see some of your students showing them the kind of results.
And I say, yes, I get it. Even though there are some of my students are so, you know, I remember one day I made a, you know, I made $2,200 a day. And of course one of my students that same day made $7,500. Okay.
He doesn't trade forex. He trades, I think options are only he focused on a crude oil or something like that. So and there are others that like to remain solo.
Remember, I don't have to even show my results. I don't really necessarily have to show my results. There is a why I show my results. Sometimes it's though as I motivate my students or to make some of them mad. And the reason why I need to get them mad was because the, we have that, you know, anger, not that anger that way that will propel them, that will force them to take actions that, okay, if this guy could be making this kind of result, absolutely I can do better.
And that is why. That is why I do what I do. Okay. I don't like, I mean it's not really about showing off, but if you think it's a show off, well that's your problem. You know Moses says something to God, he said, these people will not believe me onto this sea proof. These people will not believe me until they see proof and that is exactly what we are talking about it.
Okay If people don't see the kind of proof you know that you are making the kind of you know results, the kind of result, they would just feel you are talking theory. And of course I'm not that kind of a person that teach theory in about one, I mean man of God and about two, I've been minister of God I know, but I'm a child of God and number four I have my reputation to protect.
So okay, having said that, let's go back to our topic forex traders, David and Goliath, many people talks about our David killed Goliath. But what they don't normally talk about is our David had prepared. Okay. They don't talk about the images that David as prepared. They don't talk about when David was a alone in the Bush with the animals of his father, they don't talk about when the lions, the beers attack David and of course David are to kill them.
They don't talk about when David has been practicing with the catapult and so on and so forth. But most times they talk about our David killed Goliath is this and that. So it's all about results. It's all about years of practicing. You know, I'll just say that that practice makes improvement, okay, you don't perfect, but it makes improvement. For example, in forex, you could phone different traders who could be trading the same currency, pairs, the same market and four of them could make the same number of pips.
So in Forex, if you don't know, you make your money through pips, okay How many pips you make determines how much you make. Now, there's also what is called pips value. I will not go to details, but let me just break it down. We are four types of accounts, okay Well four types of accounts.
We are nano account. If you are trading nano account one Pip value for most currency pair will be like 0.01 dollar that will be like a 1 cents. If you are trading micro account one Pip value would be equal store a 10 cent. If you are trading mini account, the one Pip value would be equal to you know $1 and if you are trading standard, one pip will be equal $10.
So you if you have a $10 in your account, I have a hundred dollars in my account and somebody has $1,000 in his or her account. And another person has a $10,000 in his account. And they trade, the same currency Pairs, they make the same Number of pips. What they would get will bit different. Okay, so you are not there 2006 when I bought six different accounts because I didn't know what I was doing.
Of course you are there 2006 when I had to use my four month salary to go and learn forex. Of course you are not there. And of course you were not there when I had to, you know, wake up in the middle of nights to trade, possibly London open market and so on and so forth. So it's not just about results, it's about everything that goes into it.
You as a forex trader needs to understand that, okay, for example, I'm a coach, I'm a mentor, I give out a signal to my students, but I do really want my students to depend solely on just the trading signals that I give to them. The goal is for them also to know how to generate those signals so that they can teach others and they can know they can't do it by themselves.
And that's one of the things I have against all these network marketing business that does, you know, recruit people. And the, of course they don't even know what they doing. all the just news that somebody brings me in here, I bring somebody in. So that is exactly how it works.
So I mean, what you have to do, your coach will not have to do that for you. For example, your coach can train you, your coach can teach you, your coach can mentor you by your coach will not wake you up to trade. Your coach will not hold your hand saying, click this or click that, only what your coach can do is to show you what is working for him or for her.
Okay. I hope you guys just getting started or looking to get started in Forex. You all understand this, you understand this. They just like when you see somebody, you know you want to lose weight or you see somebody that has lost weight, are you, you are talking to that person you are just showing off saying this is your muscle or your, your skinny body and that other people have to learn how to wake up. For example, I'm just walking out. Why? Because I discovered I'm getting unnecessary weight, so I need to shred some of the weight because why when you are sitting at home – Just eating and eating. Right.
So you have to understand, you know you are hearing some people that are married. Just working. Okay. Do you know how far they've gone Maybe. Okay. Marriages have his issues and they've met with counselors, they've prayed to God and they've taken time to resolve. Yes. I know this video is a little bit lengthy down most of my videos, but I just hope you got the gist.
Okay, so the forex trading , making result or getting results is not a days journey. When you, when you come to learn Forex, you must first of all know that you need to demo trade, after you have demo traded, you need to know that you need to have that boldness to, you know, to transit for demo account to live account.
And when you are going to life account you starts small. You think big and you act now and you grow that account gradually. Okay And of course when you are trading, you have to devote time just like your regular job. You go to your work for like eight hours a day or 12 hours a day. You also have to dedicate times for trading. Pick your strategy. That's what I tell people. Everybody cannot be cannot be scalpers.
Everybody cannot be shrink traders. Everybody cannot be positioned trader. So you pick your strategy, don't walk with your personality that work with your schedule, that walk with, with the your lifestyle, what is going on around you. Then you begin to grow it. I've been trading forex since 2006/2007 so we are looking into how many years is that about thirteen years.
So you cannot start trading forex thirteen days ago or 13 weeks ago and you expect to be getting the kind of result that I get. You can start getting results, but it to be gradual. Then from there you build your accounts, you build your accounts. I have accounts that are just him, you know, nano nature. I have account that are micro account at a minute and I have standard account size.
So if our $50,000 in my account and you have $5,000 in your account and this person has $500 in his account or $5 we can't get the same results. We might get the same number of peeps, but we cannot be getting the same dollar value. I hope you get this.
Okay, so guys, I think I've really, really got a long on this video today. So let's go pick a winner. Okay, let's pick the winner for last week. But don't forget, click this video like it. Leave your comments and then of course, share this on your Facebook profile. Send me an email to info@tradermatic.net you could be that person that will win 7,500 for next Monday.
Okay, awesome. Let's go.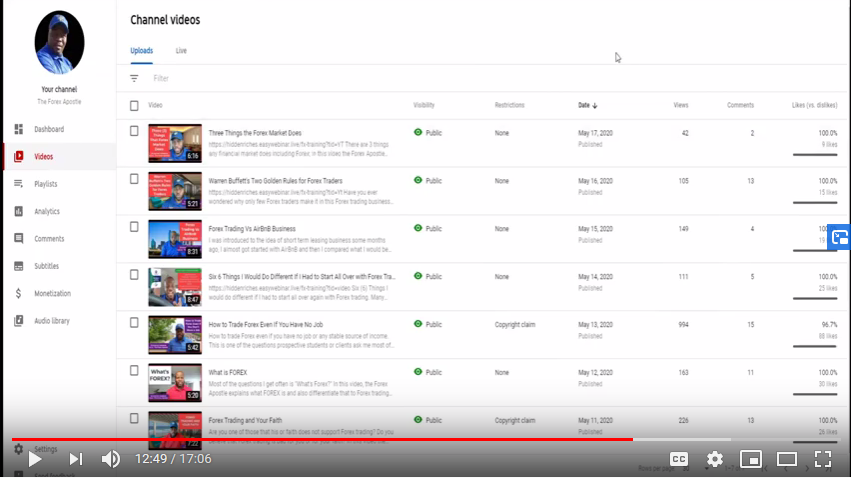 All right, so welcome back to my office. So now, okay, these are the video for last week and the ofcourse the video that has the highest views is these and also add from probably the one that has highest number of comment. I just know both. This is the video. So what we're going to do right now is to copy the video and go straight to pick our winner for last week.
So let's face it. Okay, let's pick the winner. Wa okay. Nice. Rejecting these. Okay, let's pick it. Let's pick it. Let's pick it. Oh right. So Whoa. Comes up. Daroku Charles-Granville is our winner for last week. So you are getting the pro version of tradermatic software valued at $297. So claim your gift. So send me an email to info@tradermatic.net and you can also contact me on WhatsApp. Okay, my number +1 214-440-6099. Congratulations guys. so let's make this happen for this week, who wants to win N7,500 for commenting on our videos for this week.
Okay, come on guys. Let's make this up. Last week we reach over 200 subscribers. This week the goal is to get the 1000 subscribers. So let's make this happen. Thank you. I'll see you tomorrow video.
Hello my friend y'all was good on and I want to welcome you to this video once again. I really, really appreciate your time for doing this. I want to actually give you an opportunity to win cash gift this week. So what we do every week is we randomly, select one of our subscribers and that person win gifts. So for this week you grew up in a winning equivalent of $20 irrespective of your location, where you are. And of course next week, Monday we group pick a winner. I will publicly announce it in our next video. Okay, so I'll do a win or I'll do you participate.
Don't wait. So all you have to do is like this video, both YouTube and Facebook. You like it. Leave your comment and subscribe to our YouTube channel. Subscribe to our YouTube channel and listen to this. You got to share this video on your Facebook profile. You copy the link, you share all your Facebook profile, or you send an email to info@tradermatic.net,
Once you have done that you are going to have change to be the winner.
Okay, so every week once again we are going to select one from all our videos for the week that has the highest number of views. I would pick one person. So go ahead like this video, subscribe, leave your apartment, share it on your Facebook profile. Just five task. It won't take you more than one minutes to do that, and you have a chance to win $20 equivalent. So for example, in Naira, that will be N7,500 from. So we will be picking one person like that for the next 20 weeks. Just palliative gift to God. Blessing