Many people saw my last month's income from just two Forex accounts and it was like "whaooo!" , how did you do it? how can i get this kind of result? how? what?. .. .. So, in this post , I have decided to share my proven 3 steps that anyone could follow to start making real income with Forex trading.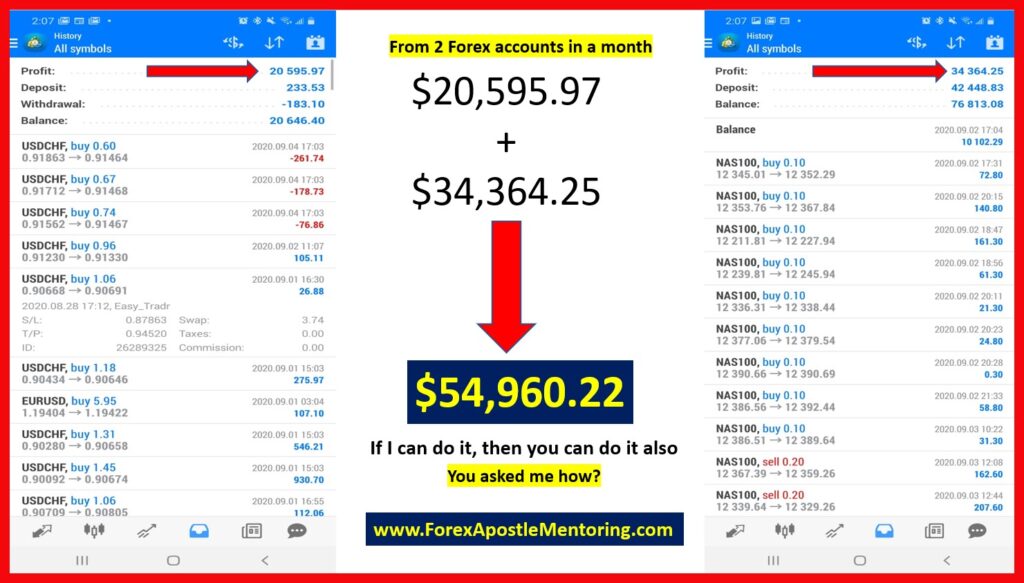 I mention $50,000 per month here with Forex trading, yours might not be 50K per month, it might be 10K/month or even extra 1K per month, the steps you are about to learn will work for any amount.
I do this at the beginning of every month and ninety percent of the time, I've always gotten what I planned.
Okay, let's dive into it.
Step 1.


Believe
The good Book says "Everything is possible for one who believes."
and Roy T. Bennett in "The Light in the Heart" says
"Live the Life of Your Dreams
When you start living the life of your dreams, there will
always be obstacles, doubters, mistakes and setbacks along the way.
But with hard work, perseverance and self-belief there is no limit
to what you can achieve."
― Roy T. Bennett, The Light in the Heart
So, if you believe you can achieve it, yes! you can.
Step 2.
Plan it.
For instance, if you want to make 10K this month. What do you do?
You plan to make $2,500 in a week. . right?
And that would be $500 per day since we have 5 trading days in a week.
And it depends on your account size, that would be just 50PIPs
daily target if you are operating a standard lot account size with 1 lot position sizing….
Don't worry if you don't understand some of the jargons above, but I hope you got the idea.
Right?
10K per month
$2,500 per week
$500 per day
50PIPs per day goal.
That's it!
And once you have a Forex system that could get you 50PIPs easily daily, then you are on your way to meeting up with your goal.
Take for instance, as at the time of writing this content, I've already made over $5,000, just for today from two accounts that I trade manually… and the day is just starting. As at the time of writing this content the time is 4AM Central time.

You see what I am saying?
I love trading London Session so that I would have the rest of day
for myself to take care of other things I have going like coaching,
creating contents, helping clients, ministry work, family time and
so on…
I trade 2 accounts manually and put Forex robot , EA and Artificial Intelligence (AI) on my other accounts. You can click here to see one of the Expert Advisor which I seriously endorse.
You see how your daily goal would help your focus?
Step 3.


Relax and Work Your Plan.
If you fail to plan then you definitely plan to fail.
You believe you can do this.
You have a plan in place.
It's time to just do it!
Follow your plan,
Do your best and leave the rest for God to take care of.
Just in case you are reading this and you don't even know what I've been talking about, well that could be one of the reasons why you need a mentor that would guide you through the process.
Or you are reading this but you know deep down that you need
help putting all these puzzles together, then all you need is a mentor.
Someone that's getting the kind of results that you want because
success leaves clue – Tony Robbins
I hope you have gotten some useful tips from this content. If you
have, please do me a favor, share this content with your friends,
you might end up helping a someone…..
Also, if you need help getting started with Forex trading, or you
are just sick and tired of losing money to Forex Bulls and Bears
and you need help, I mean you need it right now, then click here
now to schedule a free strategy call with me. Even if you have filled
out the form before and we have not got to talk, please fill it again.
I look forward to helping you.