Who Else Wants to Make $94,131.17 in A Month Trading The Largest Financial Market in The World – Forex?
Due to popular demand, we have decided to extend our November special offer to November 30th, 2020, so, right now you can join The Forex Apostle Mentoring Program for 80 percent discount.
Well, maybe your faith can not carry $94,000, what about $9,400 in a month or even $940 in a month?
I know many people reading this post right now would do well with an extra $1,000 in a month and that's why I'm willing to help just eleven (11) people in this month of November getting started trading the Forex market.
Please click the video below, play it, and increase the volume of your device. Watch the video from start to end before you continue reading this post.
If You're Ready to Be Among the Luckiest People to Take Unfair Advantage of This Special Offer Then Use Any of This Payment Medium Below Now to Lock in Your Position.
This Thanksgiving Special Offer Ends by Midnight on Nov. 30, 2020
Methods of Payment
You can make payment to our GTB account.
Account Name: Adegbola E. Adesina
Account Number: 0028814220
Bank Name: Guaranty Trust Bank PLC, Nigeria
Zelle: hiddenrichesllc10@gmail.com
Cash App: $EmmanuelAdegbola
Online: www.ForexApostleMentoring.com (Use this Coupon Code THANKS80 to claim your 80 percent discount. Please note that the 90% discount that is mentioned in the video above has expired on the 7th of November, 2020 but you can still benefit from the ongoing 80% Discount Offer if you join The Forex Apostle Mentoring Program right now.
PayPal: easyforexinstitute@gmail.com
If this is for you then use any of the payment media above, make your payment then send your proof of payment to info@tradermatic.net
What You Get When You Join The Forex Apostle Coaching and Mentoring Program in Forex, Stocks and Cryptos Today
If you are reading this post right now then chances are that you belong to one of the following categories;
You are frustrated trading the Forex market and you are almost at the point of quitting. In fact, you have started contemplating if Forex is for you… then my friend, get excited because this offer right here on this post is for you.
You have been hearing about Forex and the kind of money you could start making from it but you don't know how to get started, then this offer is for you
You have been trading Forex for a while with little proven results and you need to sharpen your skill and take your income to the next level then this special offer is for you.
You are sick and tired of your current dead-end job or jobs and you need to change your career or looking for an additional income stream then this training is for you.
And lastly, you are making enough money right now but you have no time for yourself or family members and you need a solution , I mean you need it right now then this promo is for you.
Who Am I and Why Must You Pay Close Attention to Everything I've Got to Share with You On This Page?
My name is Emmanuel Adegbola. Popularly known as "The Forex Apostle".
Because I'm a minister of the gospel by calling and Forex Trader and Coach by Choice…
I won't bore you with my grass to grace story, but permit to inform you here that I've really paid the price to the Forex Bears and Bulls.
I have been trading Forex market since 2006, but, hey don't get it twisted…. I didn't start off as a Forex Expert or Celebrity… In fact, the first 6 months was a struggle, I almost lost my Pants simply because I was trying to make a living trading Forex. I was trying to use short-cut, less I forgot that there's no short-cut through life. I paid the Price…. I lost over $30,000 within my first 6 months as a "Forex Trader WannaBe"
Well, I didn't say that for you to feel sorry for me.. It's just the price I had to pay in order for you not to pay the same.
I took a bold decision in January 2007, I hired a coach who gave me his full one week in his house, It wasn't cheap at all, but it was a decision I had to take If I wanted to make a living outsmarting the Bulls and the Bears in the Forex jungle.
I quickly realized the nasty mistakes I was making and how to ethically and legally siphon money from the Forex Market. I also realized that if you are not part of the group that I call "Forex Illuminati" you will just be throwing away your hard earned cash always… Yes, because there's a secret they know that over 97% of Forex Traders and Forex Trader WannaBe don't know.
That's why I'm so happy for you that you are watching this video right now at this hour of the day.
Today, I trade one to two hours daily and make more money daily than what many people could dream of in a year.
I'm talking about income like these;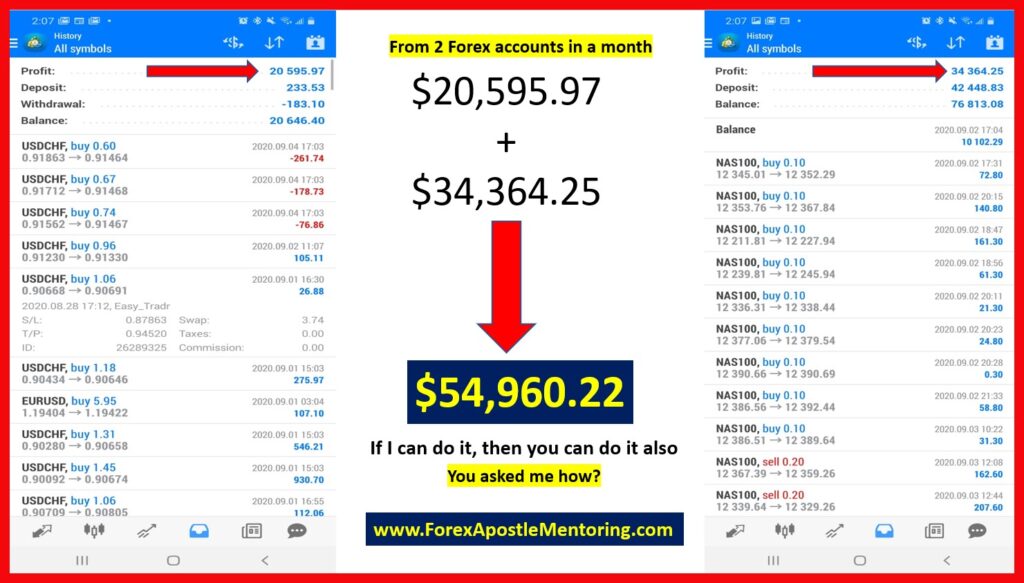 What Other People Are Saying About The Forex Apostle Coaching and Mentoring Program.
Once again, please be informed that this is not a sales page at all but I made this post to explain to you what you are getting in this offer and be reminded that this offer is only available for the first eleven (11) people that take advantage of this offer.
The regular fee for our coaching and mentoring program is $4,997 but with this crazy offer here, you are getting this for 90 percent discount. I don't know when next I will make this kind of crazy offer again if i ever will because we are actually planning raising the price of our mentoring program actually.
If this is for you then use any of the payment media above, make your payment then send your proof of payment to info@tradermatic.net
And I look forward to helping you making money with Forex trading.